What is Long-Term Care (LTC) and Who Needs it?
Long-term care (LTC) is a range of services and supports you may need to meet your personal care needs. At some point in our lives, about 60 percent of us will need assistance with things like getting dressed, driving to appointments, or making meals. Planning is critical, but many people are not sure what is covered by insurance, and people are often misinformed about what is covered by Medicare.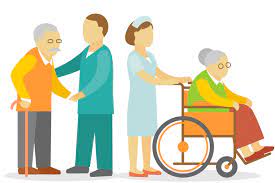 Understanding Long-Term Care
In the year 2000, almost 10 million people needed some form of long-term care in the United States. Of this population, 3.6 million (37%) were under age 65 and 6 million (63%) were over age 65 (Roger & Komisar, 2003). Recent research suggests that most Americans turning age 65 will need long-term care at some point in their lives. This section of the website provides basic information so you can begin to think about how you will handle the need for long-term care. Your path will be unique to you, and based on your preferences and circumstances.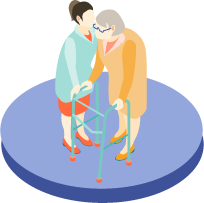 Long-term care is a range of services and supports you may need to meet your personal care needs. Most long-term care is not medical care, but rather assistance with the basic personal tasks of everyday life, sometimes called Activities of Daily Living (ADLs), such as: 
Bathing
Dressing
Using the toilet
Transferring (to or from bed or chair)
Caring for incontinence
Eating
Recent research suggests that most Americans turning age 65 will need long-term care services at some point in their lives.
Age
The older you are, the more likely you will need long-term care
Gender
Women outlive men by about five years on average, so they are more likely to live at home alone when they are older
Disability
Having an accident or chronic illness that causes a disability is another reason for needing long-term care
Between ages 40 and 50, on average, eight percent of people have a disability that could require long-term care services
69 percent of people age 90 or more have a disability
Health Status
Chronic conditions such as diabetes and high blood pressure make you more likely to need care
Your family history such as whether your parents or grandparents had chronic conditions, may increase your likelihood
Poor diet and exercise habits increase your chances of needing long-term care
Living Arrangements
If you live alone, you're more likely to need paid care than if you are living with a spouse or partner
How Much Care Will You Need?
The duration and level of long-term care will vary from person to person and often change over time. Here are some statistics (all are "on average") you should consider:
Someone turning age 65 today has almost a 70% chance of needing some type of long-term care services and supports in their remaining years
Women need care longer (3.7 years) than men (2.2 years)
One-third of today's 65 year-olds may never need long-term care support, but 20 percent will need it for longer than 5 years
Who Will Provide Your Care?
Long-term care services and support typically come from:
An unpaid caregiver who may be a family member or friend
A nurse, home health or home care aide, and/or therapist who comes to the home
Adult day services in the area
A variety of long-term care facilities
A caregiver can be your family member, partner, friend or neighbor who helps care for you while you live at home. About 80 percent of care at home is provided by unpaid caregivers and may include an array of emotional, financial, nursing, social, homemaking, and other services. On average, caregivers spend 20 hours a week giving care. More than half (58 percent) have intensive caregiving responsibilities that may include assisting with a personal care activity, such as bathing or feeding.
Information on caregivers show that:
According to a 2015 study by AARP and the National Alliance on Caregiving, about 43.5 million people in the US had been an unpaid caregiver in the last 12 months.
About two-thirds are women
Fourteen percent who care for older adults are themselves age 65 or more
Most people can live at home for many years with help from unpaid family and friends, and from other paid community support
Where Can You Receive Care?
Most long-term care is provided at home. Other kinds of long-term care services and supports are provided by community service organizations and in long-term care facilities.
Examples of home care services include:
An unpaid caregiver who may be a family member or friend
A nurse, home health or home care aide, and/or therapist who comes to the home
Community support services include:
Adult day care service centers
Transportation services
Home care agencies that provide services on a daily basis or as needed
Often these services supplement the care you receive at home or provide time off for your family caregivers.
Outside the home, a variety of facility-based programs offer more options:
Nursing homes provide the most comprehensive range of services, including nursing care and 24-hour supervision
Other facility-based choices include assisted living, board and care homes, and continuing care retirement communities. With these providers, the level of choice over who delivers your care varies by the type of facility. You may not get to choose who will deliver services, and you may have limited say in when they arrive.
BRIGHT IDEA
For many, a blended approach to long-term care works best. Most consumers want to remain in their homes for as long as possible and delay facility care until they need it. Plan early and look for flexible options that give you more say.
Participant Directed Services are a way to provide services that lets you control what services you receive, who provides them, and how and when those services are delivered. They provide you with information and assistance to choose and plan for the services and supports that work best for you including:
Who you want to provide your services (can include family and friends)
Whether you want to use a home care service agency
In facility-based services you generally don't have the option to hire someone independently, but you should have choices about:
Which staff members provide your care
The schedule you keep
The meals you eat
In home and community-based settings, you should have the ability to participate or direct the development of a service plan, provide feedback on services and activities, and request changes as needed.